I've been sick of painting parts with rattlecans for a long time. The surface is just too weak, tighten a bolt and the paint chips off. I started to watch some youtube videos about DIY powder coating, i had to try it myself!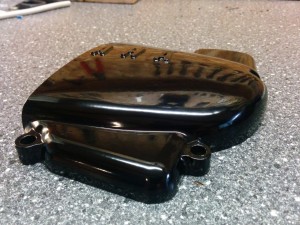 I found a cheap solution at nordicpulver.dk – a tribo gun that charges the powder in a teflon nozzle. No seperate charging station and high voltage gun is required. I grabbed a few bags of powder and placed an order. To bake the powder i bought a cheap Ikea oven, nothing fancy and it has a good internal size.
Check the gallery for the result of my first try. I didn't do anything to the parts to make them look better, i just sandblasted, cleaned and coated them.