Yet another project on my workbench. My brother wanted something bigger than his Puch Maxi, and with more than one speed and an automatic clutch. So he found a very seldom Omer Scrambler, with a Minarelli P6 engine. Edit: The engine turned out to be a 4-speed, not a 6-speed. The engine case says P6, but it isn't.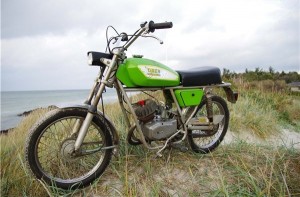 Lets start with some pictures that my brother took with his phone in the basement.
Next up: The engine will receive a complete overhaul.