Another spreadsheet to calculate moped stuff. This one is pretty simple and used to calculate the gear ratio of a 4 shaft reduction gearbox, found in various Piaggio mopeds.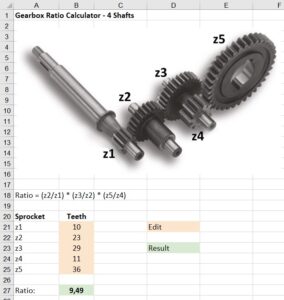 Just count the teeth on the shafts corresponding to the ones shown in the picture, and plot them in the orange fields.
You need MS Excel, OpenOffice, LibreOffice, GDocs or similar to open the file.