I thought i didn't need more mopeds for now, but then a old friend messaged me. He had this Vespa Bravo that he couldn't get done. Everything was disassembled, engine and everything. The price was ok and included delivery, so i felt it was my duty to save this (once) fine Moped.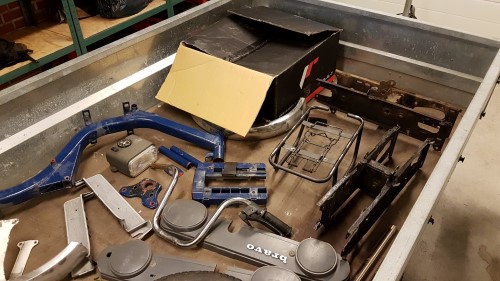 My first plan was to assemble everything as is, but the paintjob is just terrible . Everything is sprayed over, it needs a new paintjob.
The engine got a quick cleanup, new bearings and seals. The crankshaft was a bit abused, i'm giving it a chance. I'm running a original cylinder, the inlet timing and restriction are modified a bit. Just enough to pull a grown man, no racing engine… yet!
More information is found in the image descriptions, i will update the galleries with additional pictures when i get more work done.