A new fun Small Pistons project. We've used scrapped parts to build a fast and fun bike. The goal is to make something that doesn't cost much with a strong engine. We found an old Monza engine, fitted a used Athena 45 mm reed valve cylinderkit, HPI rotor ignition and a 21 mm PHBG carb. We had to buy a few new parts, but over all the budget is still low.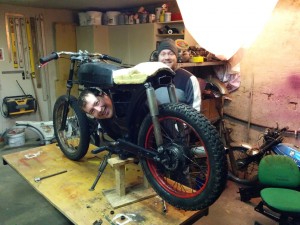 We found a four speed transmission on ebay, the seller thought it was in great shape. The truth is, the primary shaft and 1st gear where totally gone. Luckily i found some old rusty parts in my spares bucket. The rust was easily removed and left no pitting in the important places like the bearing races.
We were not satisfied with the port timings of the Athena kit on this engine. A spacer helped to clear the ports from the piston, and gave a good increase in port duration.
Check the gallery for frame and engine build pictures. Don't forget to read the comments.