When i'm riding long trips with my phone for navigation, i drain the battery pretty fast. On my Kreidler i have a 12V 80W system, more than enough power to charge my phone. But most of my other mopeds can only provide 6V and 17-18W. I've found a solution to charge a USB device that is ready to buy and mount. It's a german made bicycle dynamo adapter, the model number is M172N and it's made by a company called Kemo.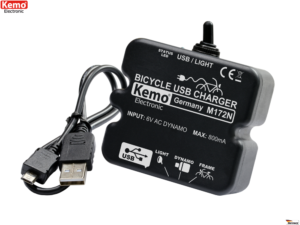 It's rated at 0,8A charging current and it's able to take an input voltage of 6-70VAC.
I have it mounted on my Vespa Bravo at the moment and it works great. You obviously need to turn the lights of to charge. The stock ignition only makes 18W and i have a 15W and 4W bulb connected.