Nikolaj is rebuilding his old Puch MS. It had a Puch Monza 2 speed engine mounted, but Nikolaj wanted more. We found an old 3 speed engine, that turned out to be a 4 speed engine, nice! The engine needed many repairs, the casings where cracked and had to be welded. The crankshaft was far gone, no ignition, bad clutch, worn bearings and seals.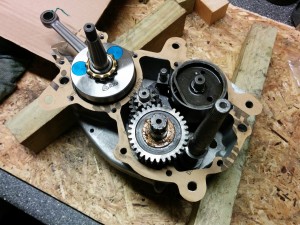 We got a lot of new parts, a nice Rito crankshaft, larger 40 mm cylinder kit, new ignition parts, bearings, seals and so on.
Check the gallery for pictures and descriptions.